---
The extended-joint support system is different from the conventional robot system in the following points.
Robot controller which is equipped with a driver board suited to extended-joint motors to be connected.
The robot controller and extended-joint motors are connected using extended-joint motor cables, motor conversion cables, encoder cables, and encoder backup batteries (all of these are options).
Extended-joint motors (option) which are equipped with bus-line encoders. (6-axis robot: up to 2 motors. 4-axis robot: up to 4 motors. motor type available)
Extended-Joint Function
The extended-joint function allows you to control extra joints independently of robot joints through the standard interface of the robot controller (RC8 series).
Hardware Configuration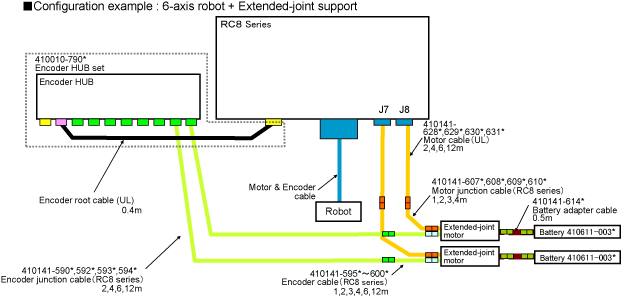 ---
Additional Information
https://www.fa-manuals.denso-wave.com/en/usermanuals/004870/
---