Overview
The VSA Series robotics are faster, smaller, and easier to use.
High speed—world's fastest in their class
Outstanding repeatability
High payload capacity
Even more compact design
| | | |
| --- | --- | --- |
| Reach | Cycle Time* | Repeatability |
| 505 mm | 0.37 sec. | ±0.020 mm |
| 605 mm | 0.37 sec. | ±0.020 mm |
| 710 mm | 0.33 sec. | ±0.020 mm |
| 905 mm | 0.36 sec. | ±0.030 mm |
*With 1 kg payload
Compact Design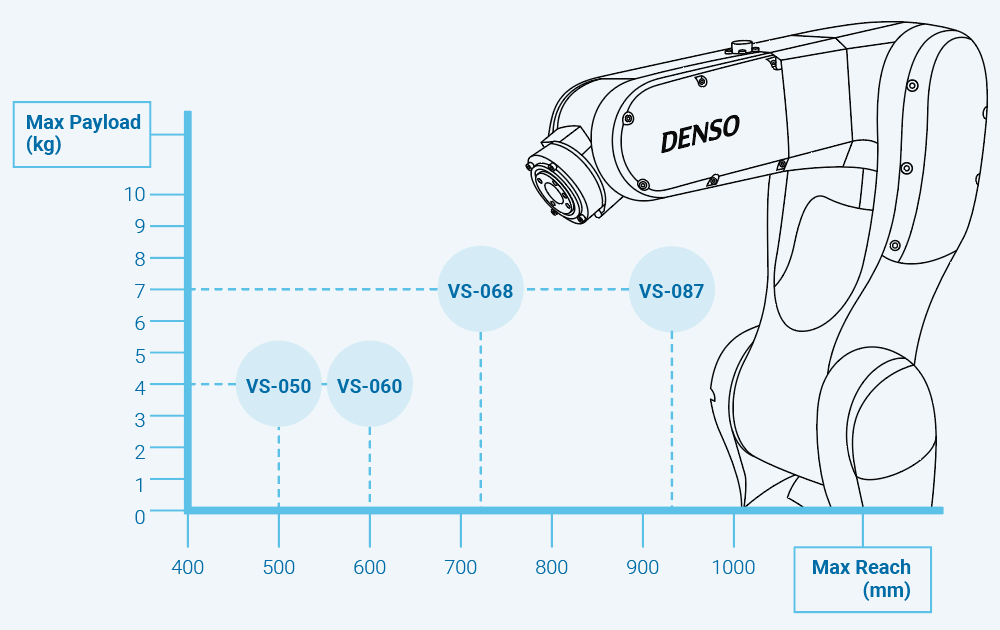 Maximum Arm Width
With a compact wrist unit can also afford to operate in narrow frontage.
VS 050/060 – 193 mm
VS 068/087 – 235 mm
Maximum Wrist Width
Compact body with few projections and depressions. Neat installations without interfering with surrounding items.
VS 050/060 – 95 mm
VS 068/087 – 100 mm
Powerful
7 kg payload in all directions, the highest in its class
Adaptable to perform complex, massive hand or double hand movements in all directions without limitation
Increased range of small robot applications in processes and improved flexibility in equipment and hand design
ANSI/CE Compliant
ANSI and CE compliant, making them suitable for global deployment.
Easy to Use
A variety of installation methods
World's first embedded wiring
Arm ends accommodate installation of camera, servo gripper, high density sensor array etc.
Floor-, ceiling- or wall-mount is available
Built-in Wires
Flexible Installation Methods
Environmental Resistance
Protected type (IP67) for use in harsh environment
Double-seal construction to exclude cutting fluid and chips
Resistant to water-soluble cutting fluids
System Configuration Options
Options
Encoder backup battery installed outside the robot facilitates easier battery replacement and overall maintenance
A switch that allows you to release the brake of each axis. Wiring of this switch is connected directly to the brake release signal of each axis.
The Protected type (IP67) maintains an IP67 protection level by air pressure produced inside the robot
This cover has tapped holes to secure wires for the robot's second arm.
Downloads
Product and specification sheets and white papers are available here.
CAD Files & Manuals
Online/Interactive Manuals
Online manuals are also available. (Be sure to create an account at the DENSO Wave link first.)